What's New in NAFTA 2.0?
January 25th, 2019 12:00PM
-1:30PM
After more than a year and half of intense negotiations, the United States, Canada and Mexico recently reached a compromise to update the North American Free Trade Agreement (NAFTA), the 1994 deal that governs more than $1.2 trillion worth of trade among the three nations. Join the World Affairs Council for a lunch discussion with Canadian Consul General Brandon Lee and former Mexican Head Consul Roberto Dondisch on what the new trilateral agreement is, how it differs from the old NAFTA, and what it means for trade policies of the three countries going forward.
Lunch will be provided.
About the Speakers
Brandon A. Lee was appointed as Consul General of Canada in Seattle in 2017, with accreditation for Washington State, Oregon, Idaho and Alaska. Brandon Lee joined the Canadian Department of Foreign Affairs and International Trade (DFATD) in 2004. He has a background leading management and innovation, and he has held several executive and management positions within the department. From 2007 to 2011, he oversaw reform activities to strengthen Canada's international presence and became the Department's first Director of Innovation. From 2012 to 2014, Mr. Lee held senior positions at the World Trade Organization and the International Committee of the Red Cross (both in Geneva), spearheading major organizational and international reform initiatives. From 2015-2017, Mr. Lee was Consul General of Canada in San Francisco, with accreditation for Northern California and Hawaii. Previously, Mr. Lee worked in the private sector as a pioneer in online banking in North America and with large-scale telecommunications and IT management consulting firms.
Dr. Roberto Dondisch is currently Principal at INTIVIS and until recently served as Head Consul of Mexico in Seattle. He was previously Director-General for Global Issues within the Ministry of Foreign Affairs, where he served as the Chief Negotiator for Mexico for the Post-2015 Development Agenda and Climate Change processes. He also was Chief Negotiator for Mexico for the Arms Trade Treaty, where, he was elected Vice President of the UN negotiating process. Also he was the Special Advisor for International Security, General Coordinator for the Youth-20 Summit the youth segment of the Mexican G20 presidency, Alternate Coordinator of the COP-16/CMP-6 climate meetings in Cancun and focal point for the Mexican participation as elected member of the UN Security Council. Mr. Dondisch holds a PhD in International Relations and Master's in International Economics (Johns Hopkins SAIS); a Master of Science in Foreign Service (Georgetown University) and a Bachelor Degree on International Relations (Universidad Iberoamericana). He has authored diverse articles on political risk, multilateral negotiations, security and democratic governance and is editor of "Mexico in the Security Council of the UN 2009-2010 The Story Behind the Scenes" (Random House 2012). He has taught at Universidad Iberoamericana, Instituto Tecnológico Autónomo de México, and Centro de Investigación y Docencia Económica. Also, he was a Jr. Fellow at the Center for the Study of Diplomacy at Georgetown University and researcher at Fundación PENT (Argentina).
About the Moderator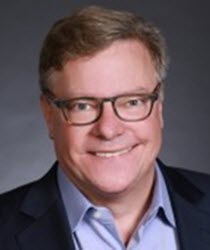 Tom Robertson is Vice President and Deputy General Counsel of Microsoft.  He leads the teams that provide legal and corporate affairs support for the Windows and Devices Group and Xbox Group.  These product groups create operating systems and online services for a wide range of device types, including phones, tablets, personal computers, gaming devices, large collaborative screens, wearables, augmented and virtual reality headsets, and devices that fall under the umbrella term of the Internet of Things.  The Windows and Devices Group is also responsible for designing and manufacturing all Microsoft branded hardware, including Xbox, Surface, Surface Pro, Surface Book, Hololens, Surface Hub, gaming controllers, keyboards, mice and other accessories.  Tom is a member of the senior leadership team of the cross-company Corporate, External and Legal Affairs Group.
Tom serves as co-chair of the Board of the Trade Development Alliance of Greater Seattle and on the Boards of the Coalition of Services Industries, the National Bureau of Asian Research and Town Hall Seattle.  He is a Life Member of the Council of Foreign Relations.
This program is in partnership with the Consulate General of Canada in Seattle and the Global Business Center at the Foster Business School.
The Boeing Company is an underwriting sponsor of all World Affairs Council Community Programs.
Details
When:
January 25th, 2019
12:00PM
-1:30PM
Venue
Perkins Coie Law Firm
Suite 4900, 1201 3rd Ave, Seattle, WA 98101